Those Destructive Little Termites

Here's a few more pictures of termites and some signs that you might have them.
Here are some termite shelter tubes. The size of tube we usually find is about the width of a pencil or smaller, which you see on the left of this BIG tube. I can just imagine the masses of termites this tube can move from the ground up into the structure.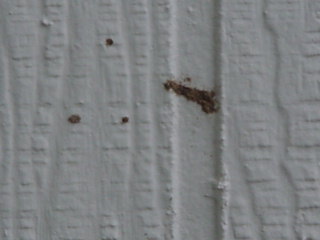 Here's some of the damage we often find - nothing more than a small hole in the wall covered with "mud". These holes can be small - pin sized - or they can be larger.
---
Here are some pictures of a home that had been treated by a "national" company. The treatment obviously did not stop the termites.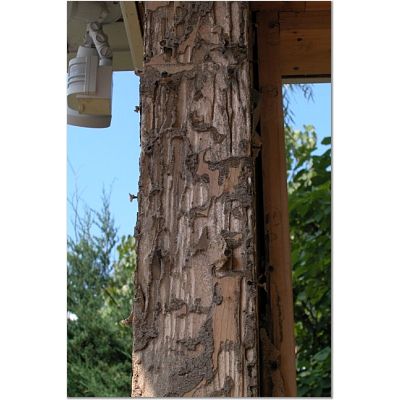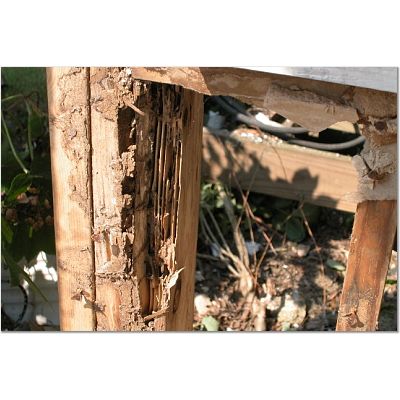 ---
CHOOSING YOUR EXTERMINATOR
Naturally, we think you should pick us.
Personally, I think that company generation of references are silly. Do you think they are going to give you a BAD reference? More than likely, this reference list would be carefully screened to eliminate anyone that might give a bad reference.
If you make your pick from the Yellow Pages, BE SURE to check your choice with your local Better Business Bureau. They can either give you a recommendation of a company close to you, or tell you if they have had any complaints on the one you propose to use. Listen to them. They know the best and the worst. And instead of using their website for communication, phone the local office and talk to a live person. There are still many instances where personal contact is much better than the Internet.
Your exterminator should guarantee to use the methods specified in the National Pest Control Association's Approved Reference Procedure Manual, and not use, charge for, or propose any unapproved, duplicate or dubious methods. He should supply you with a guarantee for a finite time period, (forget lifetime guarantees) and be able to quote you a reasonable annual cost for the maintenance of that guarantee. That fee should cover the annual termite renewal inspections and any retreatments needed.
WATCH OUT FOR SALESMEN
Don't forget, if a salesman shows up, instead of an exterminator, you're going to have to pay for him too. And it will be in his best interest to charge you as much as he can, because his pay is based on how much you pay! All you'll be talking with is a salesman, and as soon as you sign on the line that is dotted, and not one minute longer, you will probably never see him again. If you have problems in the future, you'll deal with someone else. Salesmen from pest control companies burn out quickly - and the ones that don't burn out can be real sharks, quite adept at cornering the fish.
The man you will see, and that actually shows up to do the service will probably be someone else, the service technician, and he may, or he may not, have any idea of what the salesman told you. Make sure he understands everything in the agreement you and the salesman worked out. You should make sure that this procedure is exactly what you need to do. A professional, ethical exterminator will want to help you as economically as he can. A salesman won't have the same work ethic, so you'll always pay more.
It also helps to remember that exterminating is an expertise, not an exact science, so each exterminator will have his own way to do the job, and of course, a different price.
TERMITE SNIFFING DOGS
Dogs do have a very acute sense of smell and can be taught to search for the smell of active termites. Termites produce vast amounts of methane in today's world, and we would not have a good time, here on this earth without them, believe it or not.
THINKING OF DOING IT YOURSELF?
Unless you're used to doing self-appendectomies, don't try it. You can't get there from here. Some things you just can't do by yourself, and this is one of them. You don't have the tools, you can't easily get or mix the chemicals, and if you ever sell your home, you're still going to have to get a professional to certify it. He will want to do the job all over again and will probably be ornery and charge you even more.

---

Home of the CoffeeCup HTML Editor